Pantry volunteers keep our busy grocery distribution going! Volunteers directly assist clients as they receive their groceries and produce bags. They organize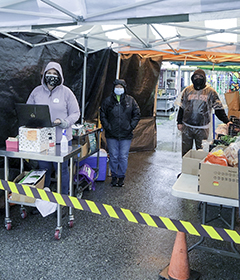 our produce items, keep grocery staples well-stocked, and help set-up and take down the pantry at opening and closing times (9 am and 3 pm). They assist Loaves and Fishes distribute grocery bags to over 600 families every month.
Typical Tasks
Assist the Pantry Manager with receiving, sorting, stocking and storing produce, bread, and nonperishable food items and packing food bags/boxes.
Welcome clients and assist in the distribution of food and other available supplies.
Assist with client intake and data entry.
Maintain cleanliness and neatness of pantry area with assistance from staff and other volunteers.
Receive and screen phone calls — answer telephone courteously.
Maintain values of dignity, empowerment, and respect with all clients, callers, staff and volunteers of Loaves and Fishes.
Help to bring all of the produce from the on-site storage building into the Pantry every morning by 9 am.
Help to bring produce back out to the storage building for proper overnight storage.